Restaurant business under the name of "Jeffer Steak & Seafood"
Operated by Jeffer Restaurant Co., Ltd.
Jeffer operates chain steakhouses under "Jeffer" trademark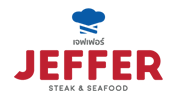 Nature of Business
Jeffer operates chain steakhouses under "Jeffer" service mark which offer western food in the category of steak and seafood with variety of menu. The restaurant design is American-inspired, offering food that appeal to Thai consumers' preference and fun experience with various selection including pork, beef, chicken, fish, seafood, soups and salads prepared, which are prepared by trained chefs. As Jeffer's point of differentiation and selling point to its customers, the customers may choose any combination of menu based on their preferences, including side dishes to complement the main dishes such as french fries, mashed potatoes, fried rice or somtum.
Jeffer provides relaxing atmosphere to its customers and a meal at Jeffer is suitable for any occasion whether for socializing with friends or for people of working age with limited amount of time. Jeffer offers quick services and therefore is suitable for having quick meals over lunch breaks.
As of 31 December 2020, Jeffer has 47 branches across the nation - 17 branches in Bangkok and 30 branches in other provinces are located in leading department stores in Bangkok and leading provinces. The choices of branch location include business districts, schools, and communities to provide ease of accessibility to the customers.

Target Group
Jeffer's target customers are diverse, yet it focuses on middle to high income earners including teenagers, students, university students and people of working age with style who enjoy steak, give importance to variety of food, and opt for value.
At present, Jeffer brand is well-known and popular among teenagers and people of working age as Jeffer's menu appeals to customers want in terms of both taste and value.